Huckabee: Governor Romney acted unconstitutionally on "gay marriage"
Amy Contrada, Renew America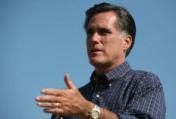 "He could have stopped it, and should have stopped it," Huckabee said.

CNSNews.com: Governor Romney should have stood up to the Court and said, "No"?

Huckabee: He should've. (August 2008)

ARTICLE continues
target="_blank">HERE.


Mitt Romney Would Keep Homosexuals in the Military
FRC Action voter guide tells the story

Mitt Romney would not reverse the horrendous policy that is allowing open homosexuality in our military.

He is also very squishy on the federal funding of embryonic stem cell research and human cloning, and he would support ENDA, the sweeping homosexual "rights" bill.

Why is any Christian or conservative even thinking about supporting him? Vote your conscience on Tuesday, March 6, or whenever your state's primary occurs.

READ the details at FRC Action
HERE.


We Can Win the War of Ideas...with the Truth!




Mission America counts on your financial support. As we reach more people than ever through radio, Internet and other media, your help is needed more than ever.

If you'd like to donate, please send your contribution to Mission America, PO Box 21836, Columbus, OH 43221.

Thank you so much for your prayers and donations!